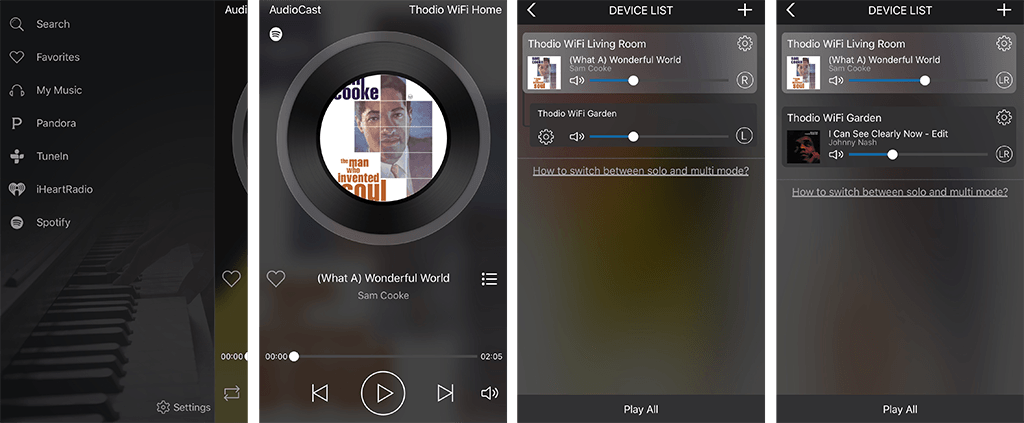 This is it. This is The Future. We are more than excited to share with you: The biggest leap forward in Thodio evolution. After 10 years of producing the best portable speaker systems and introducing the first portable Bluetooth speakers on the market in 2007. we now proudly offer you: The New
optional
High Res WiFi
Audio
Receiver
, it has it all and more,
Much more
…
Turn your
Thodio
into the Ultimate
Portable, Wireless Smart Speaker
with the
Cleanest,
Crispiest, most Transparant and Powerful Sound
available and take the party
Everywhere
! Experience music like the artists intended it, both
Indoors AND Outdoors.
Stream all your online and offline music with a
Rock Solid Wireless Connection
from computer/smartphone/online music service/NAS/UPNP Network in
High Resolution
quality to one, two (
Wireless Stereo
) or
Multiple ( Multi Room )
Thodio iBox or A-BOX speakers.
Features:
-Beautiful, Intuitive
IOS and Android App.
-Turns your
Thodio
into your home's dedicated network speaker. Any device connected to your WiFi network can effortlessly use the speaker to play music.
-
Multi Room
playback: drag and play, the easiest multi room control system in the world, group speakers together and play different music in different speaker groups, different music on all speakers or the same music on all speakers. Works with as many speakers as your network can handle.
-
Wireless Stereo
: play the left channel on one Thodio and the right channel on the other wirelessly to double the power and create a much bigger stereo image. One Thodio for the left channel [O.O] and one Thodio for the right channel [O.O]
-
Streams music directly from your WiFi router
(with Spotify connect Google cast, internet Radio, Podcasts and other services), your smartphone/tablet/computer functions as remote control only, saving battery and keeping the signal Flawless. The smartphone/tablet/computer can even go out of range or can be disconnected from the network or turned off, the music will continue playing.
-
WiFi Direct
: Play
Outdoors
online (4G) and offline music without WiFi network through your personal hotspot on your smartphone/computer.
-Play your music files from your
NAS.
-Works with
DLNA/UPnP.
-Works as a
Network Extender
, improving the quality and increasing your WiFi network range.
-Integrated
Alarm clock
which will gently wake you up with your favorite tunes at the perfect volume.
-
Sleep timer
powers off the music after 10, 20, 30, 60 or 90 minutes.
-For the people who would like to have HD Lossless
Bluetooth
connectivity too, you can! Just add both
Bluetooth and High Res WiFi
to your Thodio.
We are taking Wireless Audio to a whole New Level.
Thodio, The Sound.
Compatible with:
-
Airplay
-Apple Music
-
Google Play
-Spotify,
Spotify connect
-Qplay
-
Internet Radio
-
Podcasts
-
Pandora
-TuneIn
-iHeartRadio
-
Google cast, Tidal and Deezer
will be added soon
Technical details:
-
112Db signal to noise ratio
-
High Resolution Music playback
:
-
FLAC
lossless
-
ALAC
Apple Lossless
-
MP3
: CBR/VBR 32kbps~320kbps
-
AAC
:AAC-LC, HE-AAC, HE-AAC v2
-
WMA
48KHz/16bit or up to
192KHz/24bit.
Add High Res WiFi to your current order: http://store.thodio.com/pages/contact . All current orders with the previous optional HD WiFi receiver will automatically be upgraded.