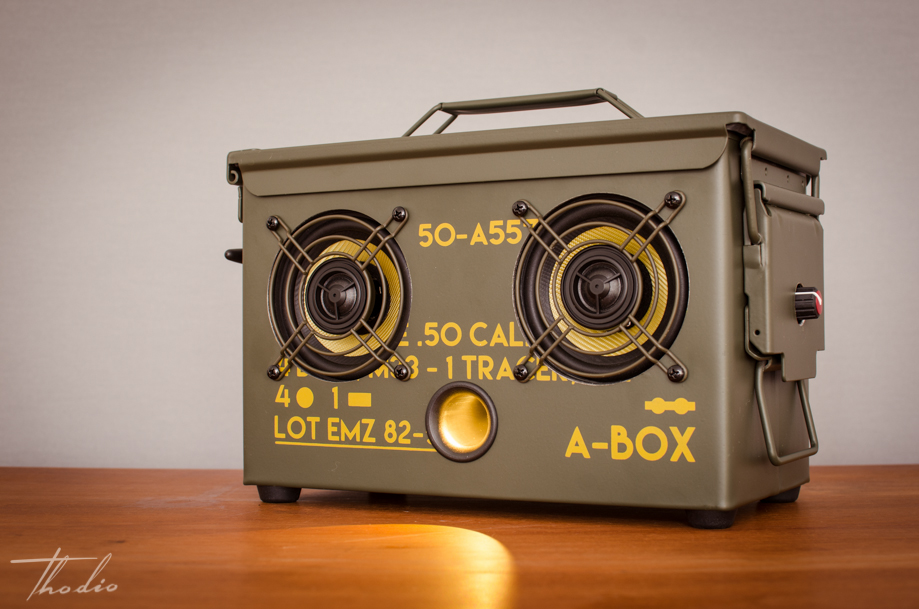 New! Our magnificent 3rd generation fully wireless ammo can speaker system:
-External antenna's for Wifi and Bluetooth for increased reach far beyond the reach of other bluetooth/wifi speakers.
-Standard li-ion battery lasting 17 hours, upgradeable to 40 and 72 hours of playtime per charge.
-New faster, more powerful charger which doubles as permanent power supply.

-New much more efficient 200 Watts rms amplifier.
-New power management system and improved wiring.'
-New hardware, the same hardware that holds together the Audi R8.
-New stencils on the front and back.
-Enhanced acoustic dampening.
-Improved battery indicator light in bass reflex tube.
-And of course the new long throw KSX4 Kevlar coned 4 inch speakers with 0.75" silk dome tweeters for the best portable sound available. Order yours today!